.

Being a self-confessed bikenerd, I've worked my way through several different bikes during my travels in the Americas. I started the journey on a Santos Travelmaster, before moving over to a Thorn Sterling, and then a Surly Troll. Having clocked several thousand miles on each, I can vouch for all as extremely capable touring machines – and I'd have happily kept riding any one of them, had the opportunity not arisen to try something else.
All three are designed to run a Rohloff Speedhub, my drivetrain of choice, and one I've been running for several years now. Conventional derailleurs are fine and good, and there's a certain reassurance in the knowledge that they can find them the world over. But when it comes to durability and reliability, the Rohloff is king, and I'd highly recommend this internal über hub if you can afford it. I've had mine for seven, problem-free years – and I like it so much I've even invested in a second, built up for me by Rohloff experts Cycle Monkey, for my Pugsley. In short, the longer and dirtier a journey, the more a Rohloff seems worth the (not inconsiderable) investment.
Drivetrain aside, this evolution in bicycles has more been about finding the right bike for me – the me in question being somewhat particular about the kind of roads I like to travel. Ultimately, I like a bike that's optimised for dirt roads, and I have a passion for unearthing singletrack along the way. Steel frames, big clearances for fat tyres, and spritely handling are ingredients I always look for.
With this in mind, I'm delighted to be currently aboard a Surly Ogre – a stout, affordable and do-it-all 29er mountain bike, perfectly suited to the way I like to tour. In riding the Ogre, I've moved away from omnipresent 26in wheels, a tyre size found in hardware stores the length and breadth of the Americas. My reasons are threefold. I favour the way big wheels roll off road. Being tall and lanky of build, I like the way a 29er fits. Lastly, mountain biking side trips are a big part of the way I tour, and a well designed rigid 29er is a very capable machine; its big wheels are large volume tyres work well without suspension. The caveat? Big wheels are also a hindrance should a tyre or rim fail outside of the US/Europe, requiring extra forethought and a cautious choice in components – although this is changing as 29ers become every more popular in South America.
Listed below is my usual setup, which tends to get tweaked here and there.
(Before I delve into the minutiae of my bike's build, I'd also like to add that if funds are tight, I'd have no hesitation in recommending a secondhand steel mountain bike frame, circa turn-of-the-millenium, for dirt road travels. It's not my belief that you need to spend a fortune to embark on a long distance journey, though I'd always recommend investing in a sturdy and well-built set of wheels.)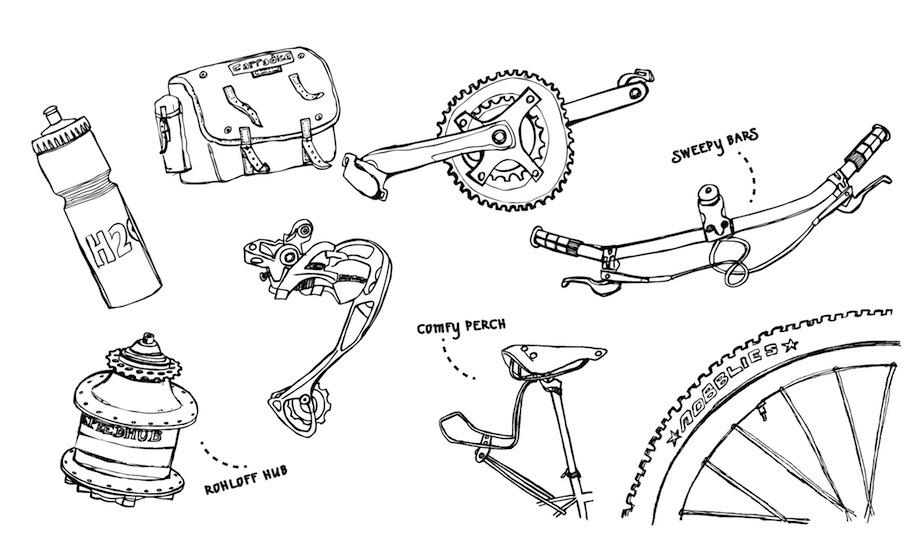 GUTS
Surly Ogre, 20in (L)
Surly Ogre fork
Note: The Ogre is both derailleur and Rohloff compatible, disc or V-brakes. It's also riddled with eyelets. There's provision for 5 water bottles, as well as front/rear racks and mudguards. It's not the lightest frame, but it's stout, rides great, and built for the long haul. 
STEERING
AMPeirce ti handlebars, 22 degree sweep, helps smooth the ride with a rigid fork
Ergon GP1 grips, highly recommended
Ritchey stem, generic
Cane Creek sealed bearing bottom bracket, cheap and reliable
Note: As I prefer mountain biking on a rigid setup, a ti handlebar with a generous sweep helps take the sting out of bumpy rides. Ergon grips help too. 
BRAKING
Shimano XTR brake levers, old classics
Avid BB7 mechanical disc brakes, all weather performance
160mm rotors front and rear
Note: BB7s are easy to maintain and reliable. I always carry spare pads (sintered), and remove rotors when travelling, in case they get bent. 
TRANSMISSION
Rohloff Speedhub, a worthy investment if you have the cash
16t Rohloff cog, reversible for long life
Surly 36T chainring, steel and reversible for long life
8 speed SRAM chain with quicklink, cheap and readily available
Shimano SLX bottom bracket
Shimano SLX 175mm cranks, light, strong and well priced
Shimano Saint platform pedals
Note: A 36T/16T combination on the Rohloff gives me plenty of range for long, steep climbs. I'd consider a 34T, or even a 32T, if I was packing heavy. 
WHEELS
Sun Ringle MTX33 rims (drilled for Shraeder), a little hefty but solidly built and relatively cheap
Sapim Race double butted spokes, black
Schmidt Son 28 front hub, for recharging electronics on the go
Rohloff rear hub, solid axle for sliding dropouts and security
Schwalbe Smart Sam 29×2.25, cheap and hardwearing
Note: Tyres-wise, I prefer a minimum width of 2.25; both for mountain biking side trips, and to run lower pressures for extra comfort. A larger volume tyre also helps protect rims from dings and dents, and reduces the chance of pinch flats. I'd also recommend a sturdy wheelset for laden touring on a 29er, particularly in countries where replacement rims are hard to source. And carrying a spare tyre. 
SEATING
WTB Pure V, affordable, strong and luxuriously comfy
Thomson seat post, no layback, 440m
Note: I use a saddle with a chromo rail, which is more likely to bend rather than snap, compared to lighter, pricier models.
SUNDRIES
Profile Kage bottle cages. On the fork legs. Light, strong and grippy.
Ti Triple bolt King Cage (custom). Under the downtube. Holds a 1.2L Kleen Kanteen bottle snuggly.
(King Cage Top Cap Cage Mount. If extra H20 is required.)
Note: The Surly Ogre includes eyelets on the fork for extra water bottle cages. This has become a valued part of my setup, as I like to run a framebag -which rules out easy-to-access water bottles in more conventional places.