.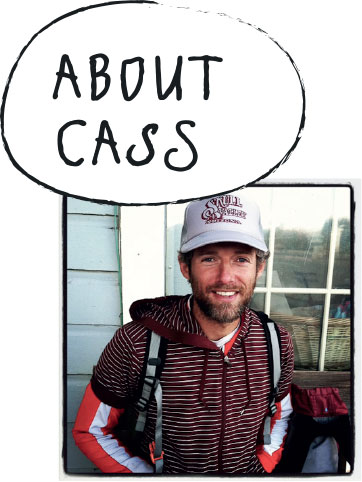 'I thought of that while riding on my bike.' Albert Einstein, on the theory of relativity. 
I began While Out Riding as a blog, charting a bike journey south from Prudoe Bay, Alaska, through the American backcountry – along quiet backroads and dirt trails where possible.
When I left Alaska in the summer of 2009, I wasn't sure where I'd end up; life has a habit of slotting into place when I'm on my bike, so I figured I'd let it take its shape. I've always enjoyed bike touring for this very reason: everyday living becomes more straightforward, funnelled through the simple act of spinning pedals. A bicycle is minimal and uncomplicated, so it's fitting that riding is the perfect mind and body de-clutterer. The blog was a way of recording this extended journey for friends and family, and a chance to process everything I was seeing and experiencing.
That was then and this is now. As of March 2013, While Out Riding has grown into a website, built around the same blog – but with lots of added extras. There's gear reviews, packlists, Q&As, a gallery, route notes and wholesome recipes for hungry cyclists. The core of the site is still the stories I continue to post on my dirt road travels in the Americas; hopefully this new format should make it easier to navigate and use as a resource.
Cass
.
Background
I've been an avid traveller since I was 19, initially hitchhiking and travelling the bus routes of Latin America. The moment I discovered bicycle touring, there was no turning back – I've been embarking regularly on two wheeled explorations for the last 15 years. As well as a thorough exploration of the UK, I've ridden from Sydney to London, across Central Asia on a tandem, through Tunisia and Morocco, around SW China and Laos, and through backcountry Cambodia. Most recently, I've been aiming to connect the length of the Americas via the road less travelled. I love touring and mountain biking, and for this reason my ideal journey fuses the two, keeping to quiet dirt roads and singletracks.
In the UK, I work as a freelance cycling journalist, and have co-ran a bike touring business for five years in the Indian Himalaya called Out There Biking.
I'm part-funding this trip by writing for bicycle magazines, and have been submitting words and pictures to Cycling Plus, What Mountain Bike,
Singletrack
,
Sidetracked
,
Mountain Flyer
,
Adventure Cycling
, Boneshaker, Cycle,
Privateer
,
Fahrstil
,
Worldwide Cycling Atlas
,
Bunyan Velo
and wired.co.uk. I love to meet up with cyclists along the way and explore the local trails. If you have a couch/yard/floorspace where I can lay my head for the night, I'd be most grateful. I can be reached by leaving a message on the blog or by contacting me
here
. Thanks!